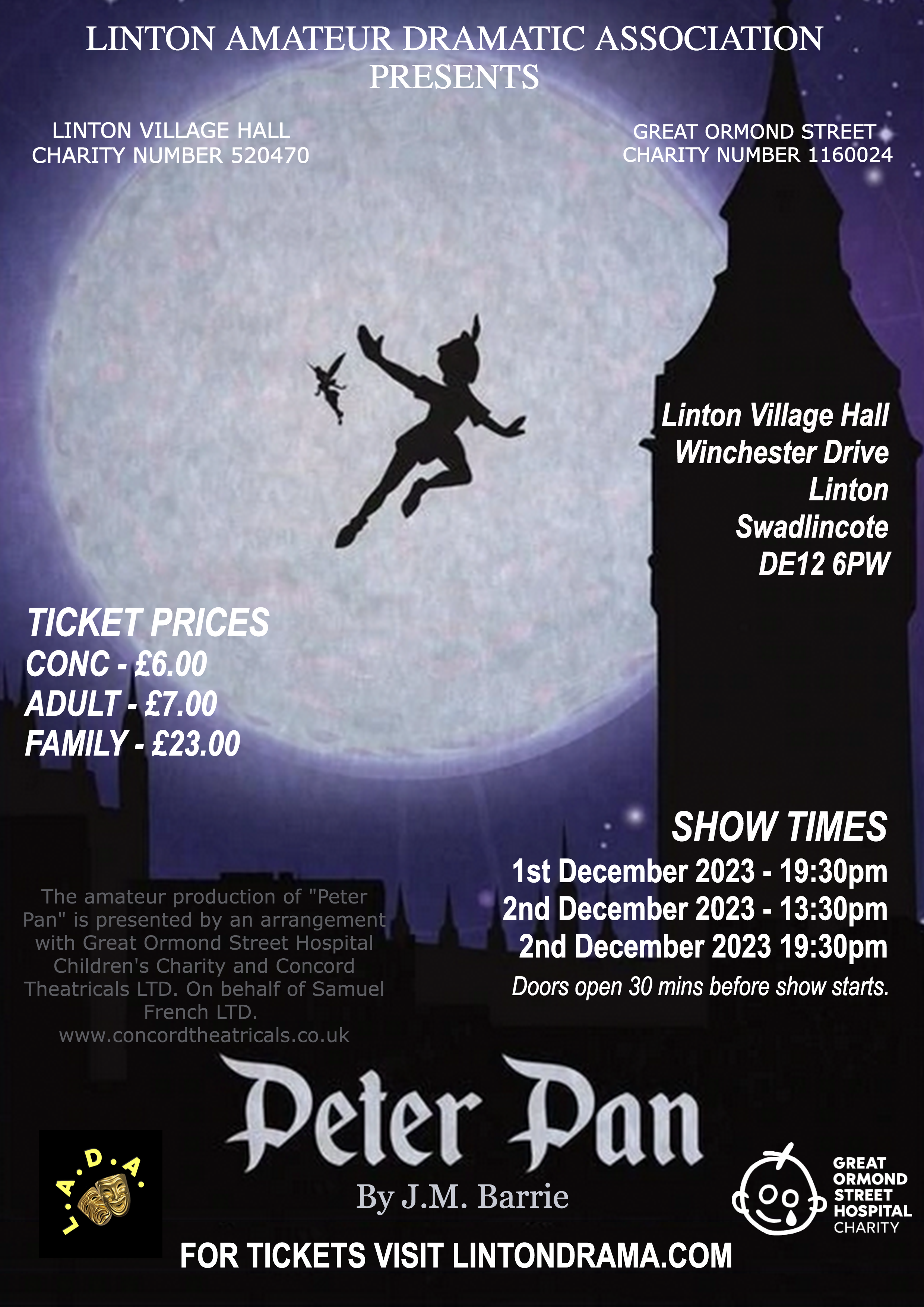 PETER PAN by
J.M. Barrie
1st & 2nd December 2023
LADA will be performing Peter Pan by J. M Barrie on
1st and 2nd December 2023.
Come and enjoy the story of the boy who never grows up and his adventures in Neverland . Boo at the evil Captain Hook and prepare to fight for Tinker Bell.
Family entertainment for all ages.
Tickets can be booked at https://www.ticketsource.co.uk/linton-amateur-dramatic-association
The amateur production of "Peter Pan" is presented by arrangement with Great Ormond Street Hospital Children's Charity and Concord Theatricals Limited. On behalf of Samuel French LTD. www.concordtheatricals.co.uk
If you need more information or want to talk to us about your booking please use our enquiry form.
Linton Amateur Dramatic Association
Linton Amateur Dramatic Association (LADA) is a community amateur dramatic group based in Linton, South Derbyshire. Comprising of members from the local community we aim to provide local access to drama and theatre in a regular basis and enable the local community to be involved, either through delivering performances or by enjoying the shows as an audience member.
We aim to provide access to arts and entertainment in the rural community on a long term basis.  We currently have a membership drawn from the local community and provide opportunities for local people to get involved in all aspects of drama whether it is acting, writing, wardrobe, make up, set design, backstage, sound and audio, marketing and PR.
The group has been operating since 2007 and encourages likeminded individuals to be part of our productions. On average we have around 25 individuals in the group and we regularly attract over 200 people each time we perform. The group is open to young people aged 10 and over and adults.
What do we do?
The group delivers 2 productions a year which includes a Panto and a summer production. Our previous shows have been varied and interesting and usually involve a large amount of audience participation. We try to do something different each summer to provide variety and to give the actors a challenge!
We meet weekly on a Thursday 7.00-9.00pm to rehearse and create the sets. There are a few dress rehearsals held on the Thursday and Fridays nearer the show dates.
There are 3 shows for each production which are performed on a Friday night, a Saturday matinee and Saturday night.
L.A.D.A.
Linton Amateur Dramatic Association
Our performances are held at:
Linton Village Hall
Winchester Drive
Linton
Swadlincote
DE12 6PW
You can contact us using any of the details below or complete the enquiry form.
Tel: 07966 679585
Email: lintondrama@yahoo.com